Hoya Flintlock
by Coralie Endean
(Warwick)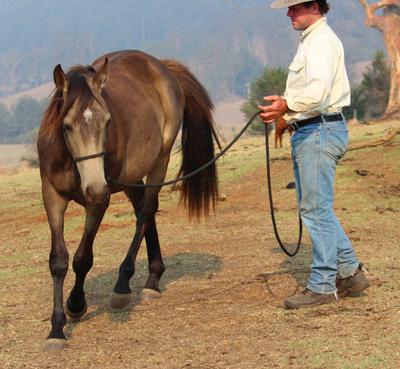 leading on a soft feel
Hoya Flintlock - HSH (AKA Flint)
$2200

Emugully Megiddo - HSH X Kirramurray Driftin Embers - HSH
Gene tested Ee Aa Crn W20n
Foaled 2nd Dec 2017
Dual registered ASH and dilute societies
Extensive Waler and foundation ASH bloodlines
Starting under saddle at "Legacy of legends" January 2020 colt start at Tamworth AELEC
Price includes starting, transfer fees and ASHS membership

Sensitive, very responsive to handle, quiet and easy to train, a thoughtful horse. Easy to catch, worm, float, trim feet and lead. Both parents hooked onto cattle. Sire courageous when mustering, gives you everything he has. Sparky will be competitive in any discipline.

Waler bloodlines; Bignells Bruce, Bignells Radiant, Bobbie Bruce (Moorfield), Cecil, Chan, Cool Bruce, Dimray, Gaelic Chief, Gibbergunyah, Goldsbrough, Haydons Starlight, Heroic, Medlow, Moorefield, Panthom, Pantler, Panzer, Radiant, Radium, Radium 2, Rivoli, Saladin, Serene, Sirdar (Shahzada), Spearfelt, Tester, The Cuan and Young Valais.
Foundation ASH bloodlines Abbey, Arcadia Jingles, Beauleigh Redwings, Comara Blondie, Elliots Creek Cadet, Eulabah Gleam, Fladbury Stud Crisena, Glenna, Glenrock Glenrego, Kimridge Amanda, Kruette, Pantheon, Peter, Macmillans Donna, Muster, My Chance, Nabinabah Comma, Nabinabah the Gun, Radiette, Reality, Sage King, Scrumlo Dorita, Scrumlo Rita, Scrumlo Uranium, Scrumlo Victoria, Star Black Mistril, Star Kingdom, Snip and Tylagun James.