Hoya Flying Spark
by Coralie Endean
(Warwick)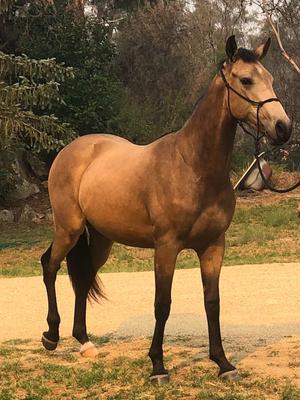 Hoya Flying Spark- HSH (AKA Sparky)

Buckskin gelding with star should finish 15.2hh
Foaled 30th Nov 2017
Hoya Firefly – HSH X Kirramurray Driftin Embers – HSH
Dual registered ASHS and dilute societies. Gene tested EE AA Crn
Easy to catch, worm, float, trim feet and lead

Light and responsive to handle, an intelligent thoughtful horse with a friendly nature. Both parents hooked onto cattle. Sire courageous when mustering, gives you everything he has.
Sparky will be competitive in any discipline.

About to be started under saddle at Legacy of legends in the January 2020 colt start at Tamworth AELEC. Price includes transfer fees to both societies and ASHS membership

"Legacy of Legends" is a continuation of what Ray Hunt and Tom Dorrance taught and understood about horses. The Legacy of Legends gathering brings together what Tom and Ray started using their pupils who are now horseman such as Buck Brannaman and the generations that have followed. Many of these have benefited themselves from the scholarship program and are now teaching it, in order to continue the lessons these two legends taught will never be forgotten. Sparky will have a phenomenal start.

Waler Bloodlines; Bignells Radiant, Bobbie Bruce, Bruce, Cecil, Chan, Dimray, Gibbergunyah, Haydons Starlight, Heroic, Medlow, Midnight, Moorefield, Pantler, Panzer Radiant, Radium, Radium 2, Rivoli, Sage King, Saladin, Serene, Spearfelt, The Cuan, Tester and Young Valais.

Foundation ASH bloodlines include Abbey, Arcadia Jingles, Beauleigh Redwings, Elliots Creek Cadet, Eulabah Gleam, Fladbury Stud Crisena, Glenna, Glenrock Glenrego, Kimridge Amanda, Kruette, Pantheon, Peter, Macmillans Donna, Muster, Nabinabah Comma, Nabinabah the Gun, Pharos, Radiette, Reality, Red Ray, Ryans Four Ex, Sage King, Scrumlo Dorita, Scrumlo Rita, Scrumlo Uranium, Scrumlo Victoria, Stanton Stud Jan, Star Black Mistril, Star Kingdom, Snip and Tylagun James.